Event Name: Certification program on "Digital Marketing"
Venue: VIRTUAL MODE, INDIRA GLOBAL SCHOOL OF BUSINESS , B-WING, AVIRAT CAMPUS, PARANDWADI, PUNE
Dates: 19th – 31st October' 2020
Speaker: Mr.Satish Pawar – SME Digital Marketing
Marketing Mavericks, the Marketing Club of Indira Global School of Business conducted an Online Certification program on the topic "Digital Marketing" for the Batch 2019-2021. The session was arranged virtually on MS Teams Platform from 19th – 31st October' 2020 The certification program was facilitated by Mr.Satish Pawar – SME Digital Marketing. Students gained insights on the various aspects of Digital Marketing and application of different tools useful for day to day decision making.
All participants were from the marketing specialization and had tremendous learnings with practical approach towards digital marketing concepts.
Pandemic had proved to be a good learning to all participants how digital marketing can be an alternate medium to reach out to customers. Students had hands on training on digital marketing to be further benefited for placements.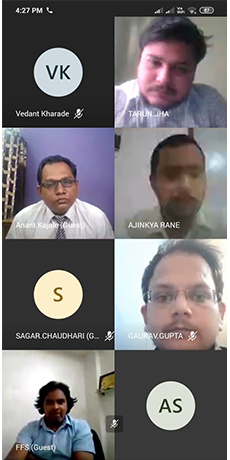 Report on: Dale Carnegie on Sales Effectiveness
Name of Course: Dale Carnegie on Sales Effectiveness
Faculty: Mr. Shantanu Vasistha
DATES: 27th – 30th June' 2022
Time: 10am to 4pm
Mode: Offline
Introduction:
Indira Global School of Business organised a workshop of Dale Carnegie on sales effectiveness under personal selling lab. Mr. Shantanu, who is an associate trainer globally validated with "Train the trainer" certification by Dale Carnegie was the trainer for workshop. The session was for all the students to learn about sales and service excellence. The first two days were dedicated to sales and last two days were for service. The workshop was not too theoretical, it was filled with a lot of activities which are helpful to students to come out of their comfort zone.
The objective of the Course:
To introduce students about selling skills from the basics.
To motivate students for the Sales profession
To boost the confidence and self-esteem of the students
To develop a mindset for sales functions and teach how to make sales
Complete Report:
The Dale Carnegie workshop on sales effectiveness was the workshop under personal selling lab, conducted by Mr. Shantanu Vasistha. The first session started with "The Rapport". The rapport is based on three things- Trust, Credibility and Respect. For selling anything, one must gain the trust of the customer, sir said and taught us stages of gaining trust. Sir introduced us a chart ~ "I know that I know", "I know that I don't know", I don't know that I know" and, "I don't know that I don't know". And told us importance of each.
Apart from the theoretical knowledge, sir did an activity where we had to go on stage and introduce ourselves with one unique quality. Everyone got to know each other's and even their unique quality. Sir made us realize that everyone is different and has something The second session was started with the homework which sir had given. All the students had to make an advertisement poster of themselves and told them to sell. We had fun while this activity and learn convincing skills which a salesman needs. Sir taught four interest areas- Primary interest, Buying criteria, Buying motive and Other considerations.
The third session was about the most important thing in sales and that is "Communication". Coding-Decoding of the message, Feedback from receiver, also Elements of Communication- Visual, Verbal, Vocal. On this day, sir made 5 groups of students and gave activity where we all had to make a futuristic tower out of paper. And present it in front of the class. It was an interesting activity.
The fourth and the last session was dedicated to service excellence. It was all about strategies to create loyal customers, how to make customer follow-through, manage customer expectations, complaint resolution. The last activity was about entrepreneurs, we made five groups and five different business plans, and we had to sell it to sir. All the students came up with creative and interesting ideas. All students had fun and presented their business ideas very well.
The workshop was well organised with domain as well as practical knowledge
The topics covered and discussed during the session are as follow:
Selling as profession
Objective and importance of personal selling
Handling objection and rejection
Importance of customer satisfaction
Maintaining customer relations
Essentials of Effective communicator
How to build rapport with customer
Elements of communication
How to start conversation
Understanding the consumer sales cycle: AIDA
Strategies to create loyal customers
Customer follow-through
Attitudes for service
How to manage customer expectations
Complaint resolution